---
---
Creative Writing Courses /Other Free Professional Courses.
---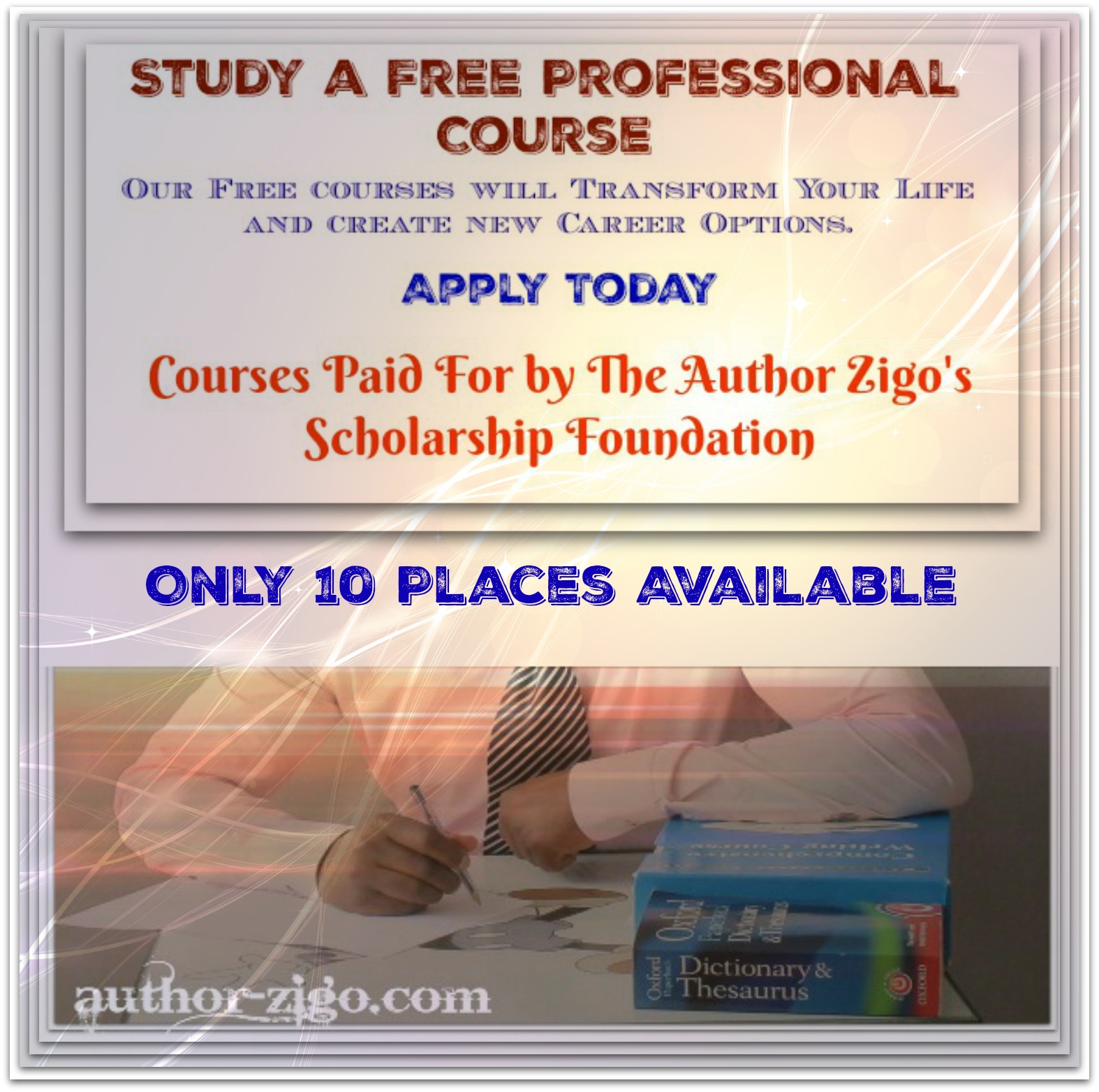 ---
---
Below are 10 professional courses/ creative writing courses you may want to apply. These courses are free and already paid for by author-zigo.com. Go through the courses and apply below, using the application form selected. 
While on the form, you will be prompted to enter your name and email address, select one course from a drop-down menu, tell us why you are more suitable for the course than anyone else etc. Submit your application, and we shall contact you through the details you submitted. 
---
Creative Writing Courses

The Foundations of Fiction (Writing Mastery) :

Become a creative writing master and write killer novels, memoirs and short stories. The course is intended for those with a passion for writing.

Here's what you will get: -6 hours of video tutoring -Learning articles -31 downloadable resources -Full time life access to learning resources -Access of learning resources on mobile and TV -Certificate of completion

| | |
| --- | --- |
| | Complete Film-making Guide: Become an Incredible Video Creator:  This course covers all the creative aspects of planning, shooting and editing an incredible video. You must have a camera and video Editing software. - 5.5hours of on-demand video. -1 course-work article. -9 downloadable resources    -Full time access to learning resources   -Certificate of Completion. |
Microsoft EXCEL: Excel from Beginner to Advanced.

Enrol now to go through a deep dive of the most popular spread sheet tool on the market. -No. of Lectures: 190 Video tutoring hours: 15. -Certificate of Completion.

| | |
| --- | --- |
| | Photography Masterclass: A Complete Guide: This will teach you how to take amazing images and even sell them, whether you use a smartphone, mirrorless or DSLR Camera. Here, you will master photograph techniques to create extra-ordinary images.           -Lectures: 330   -Video learning hours: 21.5              -Certificate of Completion. |
Documentary Film Making Masterclass:

You need some basic film making knowledge. All you need is a story and I will help you turn it into a documentary. -No. of Lectures: 42  -Video hours: 5  -Certificate of Completion.

| | |
| --- | --- |
| | CCNA (Cisco) 2018 200-125 Video Boot Camp With Chris Bryant: Get Ready to earn your  CCNA and CCNA Security Certification in this highest rated CCNA Course. - No. of Lectures: 467  -Video Hours: 62.5  -Certificate of Completion |
| | |
| --- | --- |
| | The Complete Video production Bootcamp:  Make Better Videos with the ultimate course on Video Production, Planning, cinematography, editing and distribution. -Beginner Level -No. of Lectures: 73 -Video Hours: 9 -Certificate of Completion. |
Hacking For Beginners:

Do you want to learn ethical hacking but don't know where to start? This is the course for you. It requires zero experience and zero programming Knowledge. Step by step, we built up your knowledge.  -Lectures: 13  -Video Hours: 2              -Certificate of completion.

 Learn Linux in 5 Days and Level up Your Career:

You will use in-demand Linux skills you learn in this course to get promoted or start a new career as a Linux professional  -Numbers of Lectures: 82    -Certificate of Completion

 The Web Developer Bootcamp

The only course you will need to learn web development, which is worth thousands of dollars. -No of Lectures: 388  -Video Hours:  46.5

What Do I Need to Study These Courses?
Our Creative Writing Courses/other courses are done online. You need access to the internet. You also need time. You can study at your pace, since you have a lifetime access to the courses. However, we advice you to study faster in order to move to the next level. Committed students will be considered for the next courses. author-zigo.com will contact you once in a while to check on your progress.
The Application Form (Application Deadline is 12-11-2018)
---
Have A Great Story or Question About Author Zigo's Scholarship Foundation?
Do you have a great story or question about this? Share it!
---
---